Personal Trainer Laval & Montreal - Bassam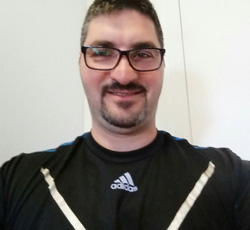 For a personal trainer in Laval or Montreal at your home or workplace
Bassam born and raised in Anfe/ Lebanon, since early childhood passionate about  sports and physical activities which lead to a major in physical education at the university of Balamand ( Lebanon),graduated in 2002 with a BA in Physical Education. A journey full of challenges started, getting a job in the field was quite difficult but then after doing the military service (served as a personal trainer at the military central club 2003) many opportunities came along. I worked as Physical Education teacher and trainer in schools and clubs.
 In 2004 I went to France (Rennes, University of Rennes II) seeking a higher education in the field of sports and physical conditioning but had to go back unfinished due to financial reasons.
 Another chance occurred when got a position as a PE teacher in one of the most reputable schools in the UAE (the international school of Choueifat, Sharjah UAE) one of SABIS educational network: teaching a variety of sports (soccer, basket, Volley, table tennis, swimming, gymnastics, track and field, softball etc…) in addition to participating in inter-Choueifat competitions and regional competitions.
In 2009 I moved to Kuwait and worked at the Kuwait National English School (KNES) and Atakamul International School (ATIS) assuming the same position as a PE teacher also teaching different kind of sports and participating in national school competitions.
End 2011 I moved back to Lebanon working in different schools as a PE teacher and Karate instructor and had the opportunity to work at The American University Of Technology (AUT) as a sport instructor ( Badminton, soccer, volleyball and physical conditioning)  giving it as elective courses.
In 2013 I received a black belt (1st Dan, shodan) in Kyokushinkhan Karate from Japan (IKO 6 Royama Group) and from the Lebanese Karate Federation.
Contact Santé Active
1-888-923-2448