Personal Trainer in Montreal - Lorraine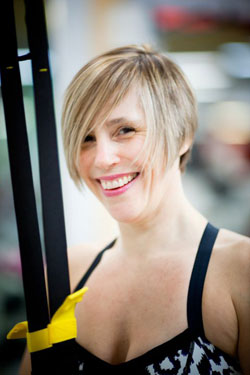 Find a personal trainer in Westmount, Hampstead, and Montreal
If you are looking for a personal trainer in Westmount, Hampstead or Montreal let us introduce you to Lorraine. She specializes in functional training and athletic conditioning. I also have a solid background in boxing. I believe very strongly in coaching people to feel, not just see, the benefits of exercise. For me, looking good is a side-effect of a well-designed workout program. The real prize, however, is living in a really fit body, one that moves around easily, one that is flexible and strong, nimble and swift and enduringly powerful.
As a certified sports nutritionist, my knowledge of nutrition helps me to supplement the benefits of a great training program with those of healthy eating habits that can support your training and energy needs, and fuel your health.
I am an energetic, fun, creative, and committed certified trainer and instructor, and I am eager to help you get leaner, healthier, stronger, younger, happier. 
Find your personal trainer in Westmount, Hampstead, or Montreal
Contact Santé Active 1-888-923-2448