Personal Trainer Ottawa- Gatineau - Jordan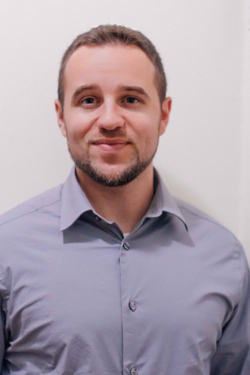 Are you looking for an in-home personal trainer in Ottawa or Gatineau?
If you are looking for an in-home personal trainer in Ottawa or Gatineau let Santé Active introduce you to Jordan one of our trainers in your region.
In addition to being a Certified Trainer with CANFITPRO, I am also a graduate from Carleton University with a Bachelors of Arts degree. I am CPR certified. I am an expert in weight management, muscle movement, and sports plyometrics. Growing up playing competitive sports such as basketball and soccer, I now coach high school basketball; running drills and designing workouts for individuals on the team. I have also run basketball camps for over 5 years, teaching not only the technicality of the game but also the importance of being healthy and active for everyday living. I am also an avid runner, circuit trainer (with and without equipment) and spinner. In the spring/summer, I have also conduct park workouts.
I am mature, responsible and dedicated to what I do. I have a passion for health and fitness and for helping others. I believe in success in everyday life, and part of that is the overall well-being of ourselves.
The workouts I design are to fit you and your needs. I will push you, challenge you and support you to go beyond your limits in order to attain your goals and even exceed them! What you put into your workouts is what you will get out of it. However, overall health is not only about exercising, it's also about your eating habits, sleep patterns, stress levels, etc. I take these into account when designing your workout and can give advice as to how simple things can change your physical health for the better! This will be a lifestyle change; a new you in every way!
The good news is that I can come to you! Want to get a workout in during your lunch break? Can't leave the house for too long? No problem, if you have the space provided, I will come to you! Like the outdoors? Park workouts are great! Whatever your needs are, I will find a way to provide!
We offer in-home personal training in Ottawa and Gatineau
Contact Santé Active 1-888-923-2448