Personal Trainer- Kinesiologist in Richmond Hill and Toronto - Anoj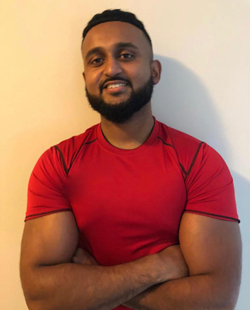 Personal trainer and kinesiologist in Richmond Hill and Toronto
We have a team of personal trainers in Richmond Hill and Toronto and they can help you to get fit at your home or office.  Let us introduce you to Anoj one of our trainers in your area.
I've been an athlete since the age of 11. Fitness has been a huge part of my life and it is developed physically, mentally and emotionally. The turning point in my life happened when I was completing my BSc Kinesiology degree. I was working on a 95 average to get into MED school which in turn caused me to gain lots of weight. I suddenly lost my confidence and was unsatisfied with my body. My passion for fitness however still existed which allowed me to lose 30 lbs & gain 20 lbs of lean muscle mass. This was the point I realized that I want to help others just like me! I wanted to help people get healthier, more confident and overall more positive in their life.
I want to help people realize that if you have a desire to achieve something that it is possible! Fitness is a great tool to bring your physical, mental, & emotional well-being to a higher level to help you achieve whatever you desire!
There's no better time than NOW to start focusing yourself and taking your life into YOUR OWN HANDS!
CanFitPro PT Specialist Certification
CPR/First Aid Certified
BSc Specialized Honours in Kinesiology & Health Science
Background in exercise physiology and biomechanics
Specialized courses in Nutrition
Experience with Hypertrophy & Strength Training
Weight Loss Specialist
Sports Training Specialist
For a personal trainer in Richmond Hill and Toronto
Contact Santé Active 1-888-923-2448