Personal Trainer in Toronto - Patricia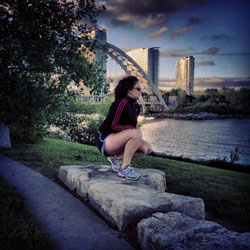 In-home and corporate personal trainer in Toronto
We have a team of personal trainers in Toronto and we offer in-home and corporate personal training.  If you would like to save time finding a personal trainer near you in GTA contact Santé Active.  Let us introduce you to Patricia one of our trainers in your area.
Born and raised in Brazil, I am a knowledgeable and energetic private Personal Trainer for over 7 years. For years I developed a passion for sports, health, and physical exercise. Those three life passions combined, motivated me to get enrolled in a four years Bachelor's Degree in Physical Education.
My most relevant experience comes from working as a personal instructor where I was instrumental in performing fitness assessments including body fat composition, strength, flexibility and cardiovascular functions for members, developing exercise programs based on fitness assessment results of participant's personal goals and implementing those exercise and nutrition programs. In these settings, I learned much about motivating clients to achieve set goals through an encouraging safe environment.
Furthermore, I also extensive experience in nutrition advising clients on nutritional principles, dietary regimes, diet modifications, and food selection and preparation. I counselled individuals on basic rules of good nutrition, healthy eating habits, and nutrition monitoring to improve their quality of life. I have extensive experience delivering high-quality instruction in a warm, friendly and safe environment. My clients enjoyed an environment where social and intellectual abilities developed spontaneously. 
Qualification
Over 7 years' experience as a fitness trainer coaching individuals to achieve fitness goals
Certified Personal Trainer and currently pursuing an Exercise Science Lifestyle Management  Diploma
Current Standard First Aid/CPR-level C certification, Bachelor's degree in Physical Education and Heart Wise exercise leadership
Effective listening, oral and written communication skills in English and Portuguese with basic Spanish
Able to work with individuals from different cultural and racial backgrounds
Knowledgeable in ACSM and NSCA, 
For corporate or in-home personal training
Contact Santé Active 1-888-923-2448