Corporate Yoga & Private Yoga Classes in Montreal & Laval - Nishia Yoga Instrutor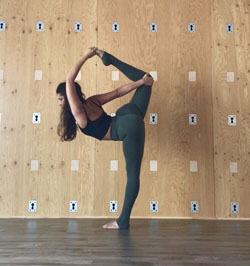 Are you looking for corporate yoga or private yoga classes in Montreal or Laval?
Let Santé Active introduce you to Nishia one of our yoga teachers who teach corporate yoga and private yoga classes in Montreal and Laval. She began practicing yoga about eight years ago and started teaching approximately four years ago. This journey of teaching, compassionately guiding people together, began because I wanted others to experience the gift that her practice had given to her—self-care and awareness.
Her sessions provide a serene, knowledgeable, supportive and enjoyable environment where people can feel comfortable in their own skin and allow themselves to explore their minds and bodies; Giving themselves the opportunity to create positive change from the inside out. 
Her vision includes empowering people. Giving them the necessary tools needed for growth and to enable them to reach his or her full potential through the beauty of movement and breath. 
We offer corporate yoga and private yoga classes in Montreal or Laval
Contact santé Active 1-888-923-2448