Personal Trainer - Optimal Health Coach Montreal - Benoit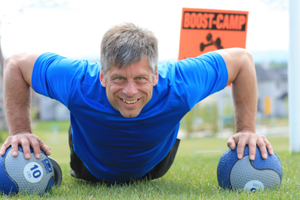 Find a personal trainer in Montreal, Outremont, Westmount & Nuns' Island 
If you are looking for a personal trainer in Montreal, Outremont, Westmount or Nuns' Island let us introduce you to Benoit.  He is a certified personal trainer with over 30 years of experience in the fitness and health industry specializes in weight loss, physical and muscular training, obesity and optimal health. He continues to improve his knowledge in these areas to make sure you live superior results. 
Benoit understands how difficult it is to include exercise into your busy schedule. With his vast experience and skills, he will coach you to integrate physical activities into your busy life. When coaching you he has a global and progressive approach. He will help you to set reasonable goals and strategies so you can achieve your ultimate goal.  He is the ideal candidate to help improve your fitness level and diet. 
Regardless of your current fitness level (beginner or advanced) Benoit will train you and create the training program that will transform your physique or athletic performance. 
It is easy for him to create friendly relationships with young adults (men and women) and seniors. He practiced meditation and he speaks fluent French and English.
Get the success you deserve and get trained with an expert who can motivate and support you?
Benoit can train you at your home, at the Outremont YMCA, at your gym or at the location of your choice.
Certified Personal Trainer in Montreal with the Canadian Personal Training InstituteWellness and Nutrition Specialist
Lifestyle Coach 
If you are looking for a personal trainer in Montreal, Outremont, Westmount or Nuns' Island
Contact Santé Active 1-888-923-2448