Zumba Instructor Montreal - Teresa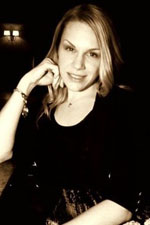 For Zumba at your workplace, Corporate event or Private Group in Montreal
Teresa became certified to teach Zumba classes in October 2012. She is also the owner of Dansensuelle a dance form designed for women who are looking for an enjoyable, sexy way to exercise offering classes such as chair dance, burlesque & pole dance classes in the Montreal area. Teresa has trained in many forms of dance including years of classical ballet. Others include Arabic, Indian, Step dancing, Tap, and of course Erotic and Pole Dance. She has performed in shows and instructional DVD's, plus has an impressive list of acting experience in the Montreal area to her credit.
Teresa is also a model and vocalist. She has won several singing awards since she was a child and is presently singing in The Becket Players Troupe.
Teresa recently took a trip to New York to obtain her second Zumba certification; Zumba Sentao! This explosive new program combines the use of a chair to strengthen your core, torch calories and sculpt your muscles with targeted resistance training.
Teresa takes pride in her work and provides genuine care towards all her participants, always offering a hand and a friendly smile.
She is excited to bring her unique teaching style to all her classes and make each class fun!"
For Zumba at your workplace, Corporate event or Private Group in Montreal
For Zumba in the workplace in Montreal
Contact Santé Active 1-888-923-2448