Zumba Instructor Ottawa - Sharon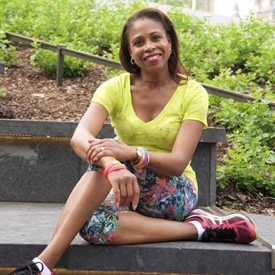 Zumba to seniors and Zumba in the workplace in Ottawa and Gatineau
In Ottawa and Gatineau, we have a team of Zumba instructors.  Our Zumba classes are available to seniors in retirement homes and to your employees at work.  The Zumba classes are taught wherever you are most comfortable, thanks to our team of instructors. Meet Sharon, one of our instructors.
I'm Sharon, and I live in Ottawa.  After taking one Zumba class back in 2008, I was smitten.  I was licensed as a Zumba Instructor in December 2008 and started teaching classes in January 2009.  I specialize in teaching Zumba, Zumba for Seniors, and Belly Dancing, where all fitness levels are welcome. 
I love teaching Zumba classes and Belly dance classes because it feels like a dance party without the feeling of a heavy workout.  Class participants are often amazed as to how quickly time passes because they are having so much fun.  These classes are all about the participants achieving their goals whether it's getting more active, achieving a healthy weight, eating well, and feeling more energetic.
In addition to the basic Latin rhythms in Zumba, I incorporate a variety of rhythms, including Belly Dance, Bollywood, Pop, Dancehall, Soca, Afrobeat, Brazilian Funk, Dembow, Cha Cha, K-Pop, Flamenco, and Bachata. This keeps it exciting and interesting.
I've also been on teaching vacations in Mexico, to provide a fun and energetic experience to vacationers.
My certifications and Licenses include:
Zumba®
Zumba Gold®,
Zumba Sentao®
Zumba® Kids & Kids Jr.
CanfitPro Fitness Instructor Specialist
CPR
Besides this fun job, I'm a Senior IT Project Manager and Associate Business Continuity Professional, working for Canada's Domain Internet Registry.
Zumba for workplaces, for seniors, and for kids in Ottawa and Gatineau

Contact Santé Active 1-888-923-2448