Zumba Instructor Toronto - Carmen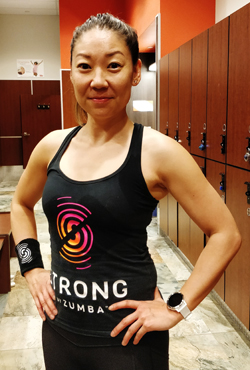 We help you find a Zumba instructor in Markham and Richmond Hill for Retirements Homes and Corporations
Are you looking for a Zumba instructor in Richmond Hill or Marham for Zumba classes for a retirement home, your school or corporations? We can help you find the right Zumba instructor for your organization.  Let us introduce you to Carmen a member of our team of instructors
Working out should be enjoyable and accessible for all levels of fitness. Zumba is a party and always a good time no matter how many left feet you think you might have!!!
Carmen fell in love with Zumba for that exact reason! The only rule is to smile and have fun! Dancing to great music always beats grinding it out on a machine. She loved Zumba so much that she got her Zumba license in 2016 and Zumba Gold in 2018. Her classes are full of energy and excitement, and everyone is encouraged to have a good time and "show off" their moves. Join Carmen for an upbeat and fun class, suitable for a diverse group of participants. Her favorite genre: Reggeaton
Are you looking for corporate Strong by Zumba classes in Markham or Richmond Hill?
We also offer Strong by Zumba for corporations or special events!  Let's kick it up a notch!!! Time to build lean muscle while unleashing your inner beast! Strong by Zumba is a high-intensity workout synced to original music, and though Carmen may look serious with her hooks and upper-cuts, she always keeps her classes upbeat and engaging by throwing in some jokes as well! Smiling burns more calories, and her key to leading a good class is her positive energy and motivating attitude.  With her experience in the gym and fitness world, Carmen is a mindful and observant instructor, providing a variety of modifications so her classes are suitable and enjoyable for all fitness levels.  Join her for an intense and exciting workout, and walk out feeling empowered and STRONG!!
Her SBZ MOTTO: "Train to Run FASTER, Jump HIGHER and Get STRONGER"... Let's do it TOGETHER!
Zumba Instructor for corporations or seniors in Richmond Hill or Markham

Santé Active 1-888-923-2448