Zumba Instructor Ottawa Gatineau - Martine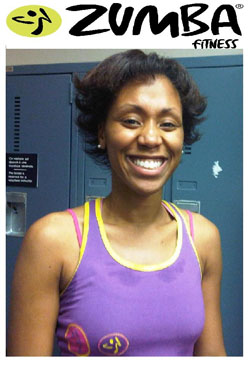 Let us help you find your Zumba instructor for Zumba classes at work or private Zumba in Ottawa!
My class is a Dance FIT high-energy, aerobics dance party incorporating many different forms of dance choreography. This cardio blast party workout will combine cardio, powerful movements and strength all in one fun class. You will shuffle, shake, heat things up in the hottest music and moves. No dance experience necessary.
I started to be drawn to dance at the age of 7 years old until dance became my passion. With over 12 years of dance experience, my teaching goes beyond technique to share a deep understanding of music, movement, and culture with students and dancers at all levels of dance experience. My teaching style is fresh, innovative and wildly admired by everyone. I graduated from Ottawa University in 2005 in Psychology and obtained my international translation certificate in a Latin Immersion program in three countries: Argentina, Chile and Costa Rica. I obtained tango training in Buenos Aires, Argentina. I also obtained Venezuelan folkloric dance training, salsa, merengue, bachata, cha-cha, stomp dance, hip hop and breakdance over the years.
As a Group Fitness Instructor, Zumba Fitness Instructor and Dance Choreographer, I concentrate on the technique of these elements at all levels, teaching my students the ability to adapt the style of their dance to that of the music and to create a dynamic dance. I am daring, honest, versatile and funky--my movement reflects my personality. I am skilled in developing private dance programs and in managing professional dance theatres, including fundraising, promotions and performance schedule. In addition, I work at the Department of Foreign Affairs, Trade and Development Canada as a Business Analyst. My passion is shared among my loved ones, family, co-workers and friends.
I have a new bundle of joy in the Zumba family which is a girl.  She was born on October 13, 2013.  This new child of mine will be with me following my footsteps, the new Zumbini in the family.
Are you searching for a Zumba instructor in Ottawa or Gatineau?
Contact Santé Active 1-888-923-2448